An excerpt from the blog:
When we arrived at GKTW, we learned of a special guest for the evening, Kayli – a Wish child with the genetic condition
Trisomy
. Kayli had always dreamed of BEING in a parade, and sharing the experience with others in the Trisomy community to raise awareness for the condition. Kayli's wish came true when GKTW made her the star of the Winter Wonderland Celebration, and she was joined by 13 other families who also had a child diagnosed with Trisomy. These families and special children traveled from all over the country to celebrate with Kayli. It was now our job to make sure this parade was a success.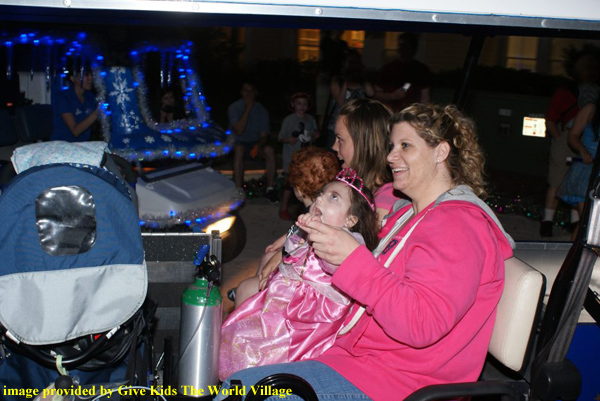 We marched up the Avenue, danced, and frolicked in the plaza as if we were festooned with jingle bells. We posed in our costumes for photos with families and children we had worked (and played) with over the course of the week. Then it was time to say good-bye. By all accounts our week in the Village was a success, and Kayli's wish had come true. Congratulations to GKTW for the work they do in making wishes come true for over 115,000 children with life-threatening illnesses, and to the special volunteer "Angels" who open their hearts to serve in the Village. GKTW now joins only a handful of organizations in the world who have reached 2 million volunteer hours in a single location.
For the full story, please visit
http://www.disunplugged.com/2012/04/17/give-kids-the-world-celebrates-milestone-in-volunteering/